Quality Guaranteed

Austain Fasteners has worked to develop and maintain a Quality System in accordance with AS/NZS ISO 9001:2015 as part of our ongoing commitment to provide our clients with an International Standard in quality of product and service. This Quality Management System assists us in providing our clients with an outstanding level of service and guarantees that our products are supplied to the highest possible standard. Austain Fasteners will only source products from reputable local and international manufacturers. During inspection and testing procedures strict guidelines are adhered to, ensuring that our guarantee of quality is maintained.
For the highest quality and range of fastener products, together with competitive prices and an outstanding level of customer service......
Austain Fasteners should be your first choice
The Right Choice - AUSTAIN - Quality Guaranteed

View quote 0 items | $POA
Featured Product
NBN & Telecommunications Pit Screws.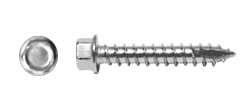 14G x 35 G304 TYPE 17 PIT SCREW
Stainless Steel 101
Learn about the advantages of using Stainless Steel fasteners