Australia's leading Stainless Steel Fastener supplier
Austain Stainless Steel Fasteners was established in 1977 and since that time has grown to be the largest privately owned Stainless Fastener specialist in Australia.  Our multiple fully-stocked branches are located across Australia in Melbourne, Sydney, Brisbane and Perth allowing us to service thousands of customers in all areas of Australia with the utmost of speed and efficiency.  Austain Fasteners is a 100% family owned and managed Australian company adhering to the highest of traditional values in all aspects of our business operations.
For over 40 years we have developed and maintained a reputation for expert knowledge in the field of Stainless Fasteners. We offer first-class service, together with the most comprehensive range of quality stainless steel fasteners, carbon steel fasteners and associated products at highly competitive prices.
We continue to provide a vital service to a large number of industries where fastening with corrosion resistant and environmentally sensitive products is critical.  These varied industries include Mining, Marine, Construction, Engineering, Transport, Water Treatment, Food Processing and General Manufacturing together with supplying numerous Government Departments and organisations.
To complement our extensive range of stainless steel fasteners in standard sizes, we also have direct access to both local and global engineering facilities which allows us to supply special non-standard fasteners at short notice, often to meet the most urgent requirements of our customers.  We specialise in finding those hard-to-find fasteners that are often required to complete a project on-time and on-budget.
The dedicated and expert staff in our Austain branches are ready and waiting to handle every aspect of your order or quotation.  Of course, we welcome any enquiry that you may have in the field of Industrial Fasteners.  We are only an email, fax or telephone call away! 
Click here for the contact details of our branches in Australia.
"FASTENING AUSTRALIA WITH STAINLESS"

View quote 0 items | $POA
Featured Product
NBN & Telecommunications Pit Screws.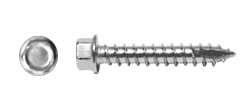 14G x 35 G304 TYPE 17 PIT SCREW
Stainless Steel 101
Learn about the advantages of using Stainless Steel fasteners