Who do we sell to?
Austain Fasteners is a wholesale supplier of stainless steel fasteners, supplying our products to Australian businesses and the general public together with many Local, State, Federal Government Departments, Agencies and Utilities. We also export to companies located outside of Australia.
You may purchase products from us on a Cash basis (Cash, EFT or Credit Card) or you may wish to apply for a 30 Day Trade Credit Account. If you wish to apply for a Trade Credit Account with Austain Fasteners please contact one of our branches for an application form. Please see our Contact Us page for further details.

Trade Credit Account applications can take up to 5 business days to be processed and during this period we may contact you for any additional information that we require. You will be notified once your account has been approved and activated. Until your account is activated you are welcome to purchase products from us on a Cash basis. Please use our online Quote Request cart or contact one of our branches directly if you wish to make a Cash purchase. Please see our Contact Us page for details.
How do I create an online Quote Request?
You can request a quote for any of the products listed under the Product Categories menu.
Navigate using the Product Categories menu on the left side of the page and then through the various sub-category menus to the required product.
Enter the quantity that you require (actual number of individual pieces) into the Quantity box and then click on the Quote button.  e.g. If you require 1 box that contains 50 pieces then you would enter 50 into the quantity field.  The item and quantity required will be added to your Quote Cart.  Continue to add as many products as you like into your Quote Cart in the same manner.
Once you have added all of the products required, click on View Cart under Your Quote at the top-right of the page.  You will be presented with a list showing all of the products that you have added into your Quote Cart.  At this stage you can remove products by clicking Remove or you can alter the quantities in the Qty field and click on the Update button to make the change.  You can still add more products at this stage.
Once you are satisfied with your product selections and quantities, click on the Submit Quote button to display the page where you will enter your Billing Details, Shipping Details and Additional Comments.
Now enter your Billing Details and Shipping Details.  If your Shipping Details are the same as your Billing Details you can save time by ticking Same as above.  Please note that all fields in the form must be completed otherwise you will not be able to finalise your Quote Request.
Enter any additional comments or special requests that you may have in the Additional Comments field at the bottom of the page.
Click on the Submit button to finalise and submit your Quote Request to us online.  You will then be presented with a Quote Confirmation message.  A copy of your Quote Request will be sent to the email address that you provided under Billing details.
Once we receive your Quote Request it will be processed as quickly as possible by our sales staff (in normal business hours) and we will then provide you with a quotation by return email or if you prefer by telephone or fax.  You can indicate this preference in the Additional Comments field at the bottom of the page. 
What if I do not have an ABN?
In the ABN field simply enter one of the following words: Government, Export or Other.
Can I change my online Quote Request once submitted?
No. Once your quote has been submitted you will not be able to change it. If you need to make any changes to your original quote request you will have to submit a new quote request, or alternatively contact one of our branches for further assistance.
What if I need a product that is not listed on your website?
If you require any fastener or associated product that is not listed here on our website, please contact your nearest Austain branch for further assistance. We are experts in supplying hard-to-find fasteners or supplying special non-standard fasteners made from any material at short notice, often to meet urgent customer requirements. Please refer to our Contact Us page for the details of your nearest branch.

View quote 0 items | $POA
Featured Product
NBN & Telecommunications Pit Screws.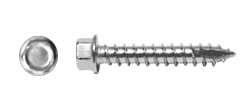 14G x 35 G304 TYPE 17 PIT SCREW
Stainless Steel 101
Learn about the advantages of using Stainless Steel fasteners